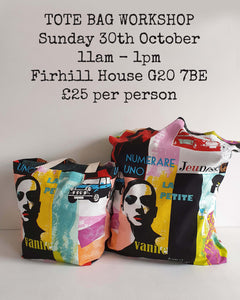 During a fun filled two hour session, you will learn how to make a tote bag.
At the end of the workshop, you will have a finished item to take with you, to keep or to give away as a present.
Special introductory offer of £25 per person. Group size limited to 6. Contact me if you are lolking to book for a larger group.
All materials supplied.
All sessions are suitable for adults and young people aged 14+.
There are 16 steps leading into the studio.
Address is:
Unit 1D Firhill House, 55-65 Firhill Road, Glasgow G20 7BE